Fresh from Scratch Bakery Treats
Available market hours and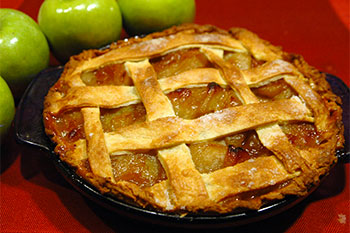 by special order
(Including phone orders, Anytime!)
Experience for yourself the fantastic flavor and texture of baked goods made from the original ingredients, and that have been carefully hand-prepared from traditional family recipes, and baked under the watchful eye of a caring baker.
We hand make and bake pies, cookies, bars, and bread with all fresh ingredients, and never resort to factory-made, frozen loaves and crusts. Come try them, and you'll know the difference!

Concessions
We now have delicious sandwiches, Longhorn beef burgers (produced from our own Longhorn Cattle), homemade chili, chips, caramel apples, Apple Cider Slush, and our famous Queen's Apple!
Our concessions also have pop and water. Baked goods and candy are also available inside the store.
We ask that no outside food or drink is brought onto the grounds.
Apple Cider Donuts!
These cake donuts have a great cinnamon apple taste and are topped off with cinnamon sugar. Donuts are fresh every day, and made fresh throughout the day.
Pre-ordering and Special Orders
We have trays available for your office party, meetings, family dinners, and reunions. These trays can be all cookies, all bars, or you tell us the mixture you want. We can also make pies and fresh baked bread for your special occasions.
In addition to the selections below, we welcome customer special orders and will bake using your recipe if you want to share it with us!
Whenever possible, please call at least 24 hours ahead so that we can provide fresh baked goods in the quantity you want.
Please call for information and prices: (319) 372-1307.
Pies
(large & small sizes)
Apple
Apple/Blackberry
Blackberry
Blueberry
Caramel Apple
Cherry
Dutch Apple
Peach
Pecan
Pumpkin
Strawberry
Strawberry Rhubarb
Cream pies by request: Banana
Chocolate
Coconut
Breads
(small & large loafs)
Amish Friendship
Banana
Banana Nut
Blueberry
Cinnamon Rolls
Pumpkin
Raspberry Amish
Friendship Bread
Wheat
White
Bars
(Sold in Pkgs of 4)
Applesauce Raisin
Banana
Blueberry
Brownies
Caramel Apple
Peach Fruit Pizza
Pumpkin
Strawberry Fruit Pizza
Strawberry Rhubarb
Bars


Cookies
(Sold 5 or 10 per pkg)
Andes Creme de Menthe
Chocolate Chip
Gingersnaps
M & M
Oatmeal Raisin
Peanut Butter
Snickerdoodles
White Macadamia Nut
Double Chocolate Chip
Cranberry Oatmeal

We also have decorated
sugar cookies. Cookies
are sold individually.