Appleberry Orchard's Farm Market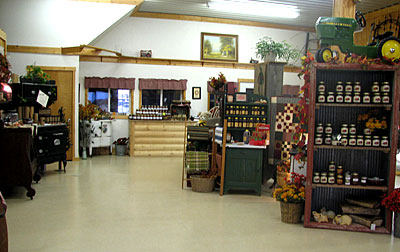 For the very freshest, locally grown fruits, we invite you to bring the family and visit the farm—our farm market has a great variety of fresh seasonal fruits, along with your favorite farm treats, such as jams, jellies, local honey, Iowa sorghum, and much more.
The kids will also enjoy our petting farm and play area, for a great family day at Appleberry Orchard.
Fresh Bakery Items
You'll want to plan regular visits to take full advantage of our extensive bakery, with all your favorites, including apple cider donuts, apple fritters, apple turnovers, pies, breads, cookies, bars, caramel apples, homemade caramel dip & much more!
Tasty Treats
Two other big favorites at the market are our Apple Cider Slush drink, and the unforgettable Queen's Apple.
The Queen's Apple is a sliced apple made gourmet with homemade caramel that is drizzled over the slices, and then topped with whipped cream, a maraschino cherry, and your choice of peanuts, M & M's, Oreos, or Reeces Pieces!
Farm Favorites and Gifts
Our extensive selection of your farm favorites make great gifts, as well as a special treat for you and your family:
Preserves
Syrups
Dip Mixes
Salsas
Local Honey
Iowa Sorghum
Tea & Coffee
Applebutter
Spices
Pickles
Relishes
Cookbooks
Gifts
Applesauce
Homemade Soup Mixes